EDIT MAIN
The District's Mission Statement:

Giving our Best ...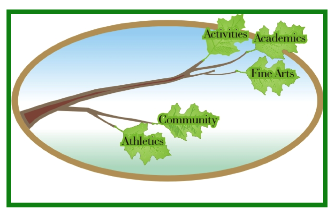 ...Growing Success!
---
The Mission Statement serves as a reminder
that through careful and appropriate curriculum, assessment and instruction,
Nebraska City Public School Educators offer quality educational experiences
for ALL students.
Statements of Belief: We believe all students will:

Become life-long learners
Thrive in a global and diverse society
Be safe, respectful, and responsible citizens
Develop visionary thinking through a growth mindset
Think and solve problems critically, creatively, and cooperatively
Become technologically proficient and practice digital citizenship
(Statements of Belief were recently updated in September of 2018 after two years of discussions/activities).
---
District Academic Goal:
All Students will increase Reading and Math Skills across content areas.
District Behavior Goal:
All Students will Be Safe, Be Respectful, and Be Responsible!
District Target Goal:
Improve Communication Skills with Staff, Board of Education, Parents, Students and Patrons
---
What are the AdvancED Domains for Quality?
1: Leadership Capacity
2: Learning Capacity
3: Resource Capacity
Why is accreditation important?
Accreditation is your assurance of Nebraska City Public School's academic excellence. Accreditation ensures a standard of quality among credits, courses and grade level placements between schools and universities around the world. It also validates the equivalency of diplomas and certificates to other accredited schools and universities. In addition, students in accredited schools become part of a worldwide network of quality institutions focused on student performance.

A Data-driven System is a process that allows all students equal opportunity to demonstrate what they have been taught and be able to do. The Nebraska City Public Schools exhibit a dedicated commitment to using data to support a continuous and informative process for the improvement of student learning. The School Improvement Process is a reflection of the commitment Nebraska City Public Schools has to ensure growth and change for the sole purpose of increasing student learning.
As a district, we participate in systematic and systemic school improvement as established in state accreditation requirements (Rule 10). All schools follow the AdvancED Model for School Improvement and have achieved accreditation. The district has a School Improvement Plan that includes district level goals for increasing student achievement and improving instruction and behavior goals to ensure a safe and respectable environment for all learners. Implementation and review of local standards for learning, behavior data reviews, gathering of information about student performance, and reporting of progress (standards, assessment, and accountability activities) have become an integral part of the district's School Improvement Process. The process guides the district in setting goals, assessing progress and reporting results.
The District's AdvancED Accreditation was finalized in 2014 and most recently in February of 2019. Nebraska City Public Schools has achieved District or Systems Level Accreditation in both 2014 and 2019. AdvancED changed to "Cognia" following the district's external visit and corresponding designation.

During the 2016-17 School Year, the School Improvement efforts focused on reviewing the Statements of Belief, updating surveys and Action Plans and continuing to focus on student achievement/safety as outlined in the overall school improvement goals. The district and buildings also began working with the eProve system through AdvancED. During the 2017-2018 and 2018-2019 school years, the focus has been on implementation of eProve, analysis of survey data, reviewing and aligning curriculum, looking at new Core Reading Programs that will better help us meet the new standards, and making a conscience effort to reach out to the community.
Continuous School Improvement Activities:
Review Mission and Statements of Belief - On Friday, August 10, 2018 the Nebraska City Public Schools held the initial Back to School Day for all staff. A district information session was presented with all staff participating in selected School Improvement Activities. Since the entire staff has had opportunities to review the Mission and Belief statements, the newly defined statements of belief were presented. At the August 2018 board meeting, they were officially voted upon as revised.
School Improvement Council
Meets monthly. Representatives include: Staff, Parents, Board of Education, and Community. Reviews what buildings are doing with regards to the School Improvement Goals. Review EBA. Addresses AdvancED requirements for Accreditation, Early Adopter of eProve Strategies through AdvancED. This is our largest school committee. The work done by the team is invaluable. They are able to share out the work being done to meet goals and also demonstrate various areas of improvement needs. The meetings are extremely well attended each month and serve to provide the necessary information for the Building Leadership Teams to do their work. During the 2019-2020 school year, members representing MTSS were invited to participate in School Improvement meetings as a way to further the efforts of MTSS implementation. Both teams are working together for the Comprehensive Needs Assessment (CNA - facilitated by Jen Madison and Teresa Frields), which was to be done this spring with staff following the team's work with the Screener results. Unfortunately, this will need to be picked up in the fall when school resumes. All building principals have been on those teams for continuity.
Curriculum Advisory
This committee promotes the district's efforts to provide appropriate educational opportunities for Nebraska City Public School Students through Curriculum considerations. It also serves as a way to look at the "Big Picture" of Curriculum, Instruction and Assessment for the Nebraska City Public Schools. The Administrative Team, Department Heads, Faculty Representatives and Parent/Community Stakeholders collaboratively work together to inform decisions. Information about curricular needs/changes or reviews are presented during these meetings and shared with the Board of Education. The group typically meets formally about two-four times a year and has some email correspondence, but is open to meet as much or little as necessary. A formal template is available when new curriculum is being recommended for consideration and that document is provided to the Ed Committee of the Board of Education.
Action Plans- have been provided to each building for work with leadership teams and all building staff. The revisions of the plans will focus on measurable goals linked to evidence. Following recent AdvancED trainings, the "Strategies" from eProve is being used to revise current Action Plans for better ease of updating and viewing. This platform is more of a process that is allowing the district and each building to build a strategic plan that will be ongoing and carried out over time. It has allowed the staff to really dig deep and identify areas that we can really start a more intentional focus.
AQuESTT- Each building, along with respective staff and Leadership teams are working on documentation of Evidence to support the EBA Evidence Based Analysis. Each school will identify evidence for each of the six tenets and provide the documentation on a cumulative spreadsheet to be updated throughout the school year. Nebraska City Public Schools received a rating of Good in the classifications initial year. 423 schools or 37.43 percent were also rated good. Previously on a 4 point rating scale, Nebraska City Public Schools came in at a 2.7 overall. The total EBA (Evidence Based Analysis) score was an 81 for the district, which reflected the ratings done in each building.
AQuESTT tenets: 1) Positive partnerships, relationships, student success 2) Transitions 3) Educational Opportunities and Access 4) College and Career Readiness 5) Assessment 6) Educator Effectiveness.
Each Building has documented information about evidence that falls under the AQuESTT Tenets. We have been documenting this evidence for the past several years and identifying strategies, activities and information that links to AQuESTT. Because this supports the states vision, we have been diligent in ensuring that we pay close attention to Accountability and those expectations for our schools. Leadership teams have done activities to discuss the evidence and in turn, we have been able to be candid on the Evidence Based Analysis EBA about our strengths and weaknesses, which allows the focus of goals and efforts.
PBiS - Building Leadership teams have continued their work on implementation of the Positive Behavior Interventions and Supports Model through ongoing training opportunities. Each building has developed goals and activities that promote efforts to increase positive behaviors within our student population and our schools. Monthly reports are provided to the steering committee to review how PBiS is being implemented at each building in an effort to meet our goal of being safe, respectful and responsible.
District Goals: Building Leadership teams report out formally to the District School Improvement Leadership Team. Reports include activities and documentation of efforts to work on the academic goal.
Community Partnerships and #BeKind:A district-wide effort to be more engaging with both students and the community has been in place for the past two years. Community projects have allowed the district to make better connections with patrons. #BeKind was added this year as part of a Nebraska movement and in support of former Principal Mark Adler's son. Various activities to lead students to be more intentionally engaged in kindness is a focus. Special events have included the community, parents, staff and students in spreading kindness both here at home and across the miles. A school in Florida, adversely affected by the recent hurricane's is one of those projects. A celebration and open house was held, students received awards and accolades for activities associated with kindness. The High School Student Council and Expression Groups participated by greeting patrons and providing entertainment. Academic and fine arts projects have also been highlighted. Media coverage has been provided to help support these causes that ultimately provide our students with the tools they need to "BeKind".
Noteworthy:
Given our demographics, it's apparent that staff has been working diligently to put strategies and programs into place that will offer additional supports. Scores on the State of the Schools results show improvement in all areas. By continuing to look at the curriculum and data, determining individual students needs and keeping in mind that we do many great things in this district for our kids, we should see growth and feel good about the work we do to help kids be successful in many areas.
The administrative Team and the staff have long been aware of the challenges that face our particular district. With that being said, we don't use those challenges or our demographics to make excuses or justify performances. Our job is to take our kids, provide them with the best opportunities for a good educational experience and look what we can do to continually meet changing needs and show efforts to improve.
Numerous supports are being implemented to best serve our population. The addition of two pre-school sections in the past couple of years, adding After School programs at three buildings, Pushing forward with our Response to Intervention (RtI) by providing intense help to those not meeting benchmarks, revising curriculum and looking at different ways of delivering instruction, Training teachers in the Marzano Strategies to improve instructional techniques and bringing in Marzano experts such as Mitzi Hoback from Solution Tree, enlisting Anita Archer Explicit Instruction Strategies, implementing the new teacher evaluation model, expanding the career academy, providing education to learners needing something different in our "Impact" school, providing comprehensive SPED services including Impact programs serving those with particular behavior needs, working with ELL programs and the list goes on and on. The Development of a Career Academy, has helped students in IT, Construction and the Medical field, to attain on the job experiences and focus on job opportunities while learning a skill or earning a certification. In addition we have a variety of supports and extra curricular offerings that reach out to all types of learners. (Speech Contest, Quiz Bowl, History Projects/trips, HAL, DI, Fine Arts, Athletic Programs, Clubs, Senior Projects, parent nights, and on and on)
We take the federal and state requirements for assessment seriously. We study our data, we make improvements to our curriculum, we use Whole Faculty Study Groups to review student work and we look at individual student results to see how we can help them improve. Recent changes in both the state standards and the state tests have been challenging for our students, particularly in various areas of diversity. We are studying the ways we can show growth in the various areas where the most weakness is shown. We have implemented power standards, are planning to make a change in our Language Arts Programs, and we are looking for ways to supplement and enhance programs for students with special needs. We've enlisted the John Baylor Test Prep and added Pre-ACT at Grade 10. We also participated in an ACT Field Test in the fall of 2018 to help us practice the writing components found on the ACT writing portions. Previously, a lot of our students didn't choose to take the ACT and so we are adjusting so everyone has preparation and encouragement to do their best. However, we also see the need to look at other areas just as carefully, to ensure well-rounded individuals leave our buildings to make future lives, programs such as those in our Career Academies are really important.
As a district, we don't allow a single test define us as a district and negate all the great things going on for kids in each of our buildings or programs. We are constantly reviewing, revising, adding new things, and looking at how we can improve. When using the information we have, it's important to keep things in perspective. Can we do better? Always. Will we keep looking at test results and implement strategies to show growth? Yes. We will also continue to look at education in a balanced manner, working to meet the ever-changing needs of our particular population and addressing the needs of our students. We are dedicated and willing to continue to give it our best.
Following the closing of schools temporarily for the COVID-19 challenges, the teachers and administrative team have been working to provide appropriate and meaningful activities, reviews, lessons and instruction in order to maintain academic continuity. Parents have been very supportive and we are fortunate to continue to provide support and guidance so learning can continue effectively. Thanks to all who support education!